As everyone knows about polyester, polyester is almost always inseparable from buying clothes and home textiles, because polyester is one of the main materials for home textiles and one of the most important synthetic fibers in China. Therefore, polyester fabrics are also chosen for outdoor travel backpacks. Let's take a look at what the polyester fabric is. It is a fiber-forming polymer prepared by esterification or transesterification and polycondensation with purified terephthalic acid (PTA) or dimethyl terephthalate (DMT) and ethylene glycol (EG) as raw materials. It has excellent shape setting properties and is an important variety in synthetic fibers. It is a fiber made by the exchange and reaction of specific chemical elements, and a fiber made by spinning and processing. Polyester is a cheap, durable, and non-deformable fabric.
So why should the
backpack
use polyester fabric?
In fact, polyester fabric is also a kind of chemical fiber garment fabric used in daily life. Its biggest advantage is that it has good wrinkle resistance and shape retention. Therefore, it is suitable for outdoor products such as outerwear, various bags and tents (such as outdoor travel backpacks, knee pads, etc.)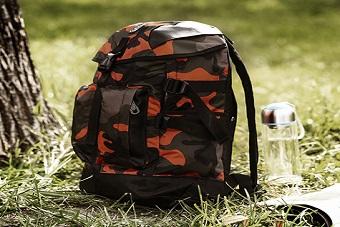 Advantages of polyester fabric:
1. High strength
The short fiber strength is 2.6~5.7cN/dtex, and the high tenacity fiber is 5.6~8.0cN/dtex. Due to its low hygroscopicity, its wet strength and dry strength are basically the same. The impact strength is 4 times higher than nylon and 20 times higher than viscose fiber.
2. Good flexibility
The elasticity is close to that of wool, and it can almost completely recover when it stretches 5% to 6%. The wrinkle resistance is better than other fibers, that is, the fabric is not wrinkled and has good dimensional stability. The modulus of elasticity is 22~141cN/dtex, which is 2~3 times higher than nylon. Therefore, it is durable, wrinkle-resistant and non-ironing.
3. Corrosion resistance
It is resistant to bleaching agents, oxidants, hydrocarbons, ketones, petroleum products and inorganic acids. It is resistant to dilute alkali, not afraid of mildew, but hot alkali can make it decompose. There is also strong resistance to acids and alkalis, and UV resistance.
4. Good light resistance
The light fastness of polyester fabric is better, except that it is worse than acrylic fiber, its light fastness is better than natural fiber fabric. Especially the light fastness behind the glass is very good, almost on par with acrylic fiber.
5. Good heat resistance
Polyester is the best heat-resistant fabric among synthetic fabrics. It is thermoplastic and can be made into pleated skirts with long-lasting pleats.
6. Good wear resistance
The abrasion resistance is second only to nylon, which is the best in abrasion resistance, and is better than other natural fibers and synthetic fibers.
7. Good chemical properties
Polyester fabric has good resistance to various chemicals. Acids and alkalis do not damage them much, and they are not afraid of molds and insects.